New Dental Building Key to Battling COVID-19
New Dental Building Key to Battling COVID-19
The 267,000-square-foot Creighton University School of Dentistry at 21st and Cuming streets provides 100,000 square feet more space than the Dr. Harry N. and Maude Boyne School of Dental Science building, where Creighton dental students had learned and practiced their clinical skills since 1973.
The greater ease of social distancing permitted by the additional space, combined with state-of-the-art air-quality systems and other design improvements permitted the school to continue its educational mission, provide dental services to Omaha's low-income community, and ensure timely graduation for students despite the pandemic.
"Our new dental school was already a great addition to the University and to the people of Omaha and Douglas County to whom we provide low-cost quality dental care," says Joseph Franco Jr., BA'80, DDS'84, assistant dean/chief dental officer and associate professor of diagnostic sciences. "But we never anticipated the critical role it would play in helping treat the community during this pandemic crisis by utilizing not only our extra space to facilitate social distancing but also our advanced air handling system containing UV light air purifiers."
"The infectious disease protocols we put in place would have happened no matter where we were, but the size of the new building and the way it is designed have made mitigation much more convenient," says Winston Yapp, associate director for operations. "We have better ways to control the entry and exit of students, faculty, staff and patients, and that ability to separate people has been very helpful."
Yapp says the new building has provided critical virus-mitigation tools, including multiple points of entry, sophisticated air quality control systems and special rooms that permit dental services to be provided even to individuals diagnosed positive for COVID-19.
"A big advantage has been the greater space. Things were so much tighter in the old building that it would have been much more difficult there to spread students out and achieve our social-distancing goals. Here, we were able to distance people and create an environment that
was safe, which allowed us to continue doing our clinicals."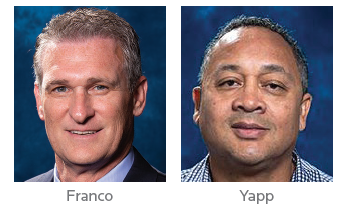 A great boon, Yapp says, are two Needlepoint Bipolar Ionization systems. These air quality control systems deploy ions into the airstream, thus helping to eliminate a significant number of airborne pathogens, including mold spores, allergens and other microbes capable of causing illnesses, including COVID-19.
Also playing a direct role in maintaining Creighton's ability to continue teaching students clinical skills and serving underserved populations was the addition of two "negative pressure" rooms, which control air circulation to ensure that only clean air is present.
Dean Mark Latta, DMD, MS, had successfully applied for a $100,000 federal grant to construct the two rooms, which permit dental services to be provided to COVID-19-positive patients who otherwise might have to wait for recovery before receiving critical dental care.
"We asked for money for negative pressure rooms so we could treat patients who we know are COVID-positive," Latta says. "We would ordinarily defer elective dental treatment until they were feeling better, or were no longer positive, but we have patients who may have
an urgent dental need — they're in pain, and we can't wait days or weeks to treat their problem."
The numbers show that the rooms are experiencing rapid growth in usage as faculty and students grow familiar with their potential and availability. The rooms have been used for such procedures as periodontal surgeries involving implants, bone grafts and connective tissue grafts, endodontic surgery and more.
"I don't know if we could have installed the rooms in the old building," Yapp says. "They are a great advantage that we have here that we did not have there."
Franco echoes those sentiments: "The two negative pressure rooms allow us to provide service not only to COVID-19-positive patients but also patients suffering from other respiratory diseases," Franco says.
Latta stresses that the rooms are intended to treat people who are already patients at the school — some of many years standing — who have been diagnosed with COVID-19. They are not intended as tools to recruit new patients, although Latta fully expects that the number
of existing patients diagnosed with COVID-19 will increase.
"One of the interesting facts is that 60% of our patients come from those ZIP codes in Douglas County where 90% of the positive patients have been discovered," he says.
The rooms deploy exhaust systems that draw the air out of the room and deposit it outside the building, while drawing clean air in from corridors and hallways.
"That's why the term 'negative' is used," Franco says. "The air being pushed out of the room exceeds the air being drawn in. That removes any kind of aerosol that's in the air, any kind of bacteria, flushes it out and pushes it to the outside."
The project is supported by funding from the Coronavirus Aid, Relief and Economic Security Act (CARES Act) from the U.S. Department of Treasury and the Nebraska Department of Health and Human Services, CFDA Number 21.019. The precautions and adaptations Creighton has made to keep the school and clinics open are appreciated by students such as Corby White, a third-year student.
"I have always been proud to be a dental student at Creighton," White says, "but the administration really stepped up by keeping us informed, providing us with appropriate PPE, allowing us to treat our patients, and giving us an environment where we can continue to meet clinical requirements to graduate as competent dentists."